Junglefy Breathing Wall at Eastern Distributor, Sydney
Junglefy Breathing Wall, Sydney
We monitor and report on our ESG performance across all areas of the business. This page contains a summary of our key ESG metrics. More detailed data is available via the 'Download Data' link and comprehensive commentary is available in the
Corporate Report
.
Greenhouse gas emissions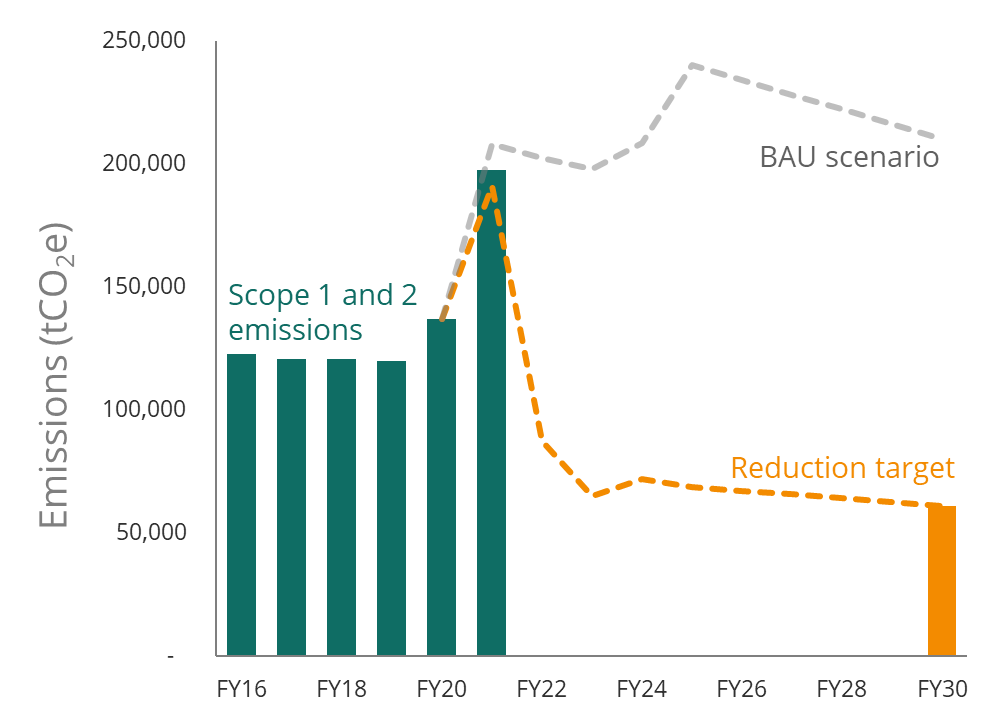 Scope 1 and 2 GHG emissions: 197,738 tCO2e in FY21
Emissions have increased with growth in our asset base, but energy-efficiency improvements have achieved reductions on individual assets.
Target to reduce emissions by 50% from 2019 levels by 2030, and achieve Net Zero by 2050.
Significant GHG reductions expected as renewable PPAs commence in NSW and QLD from 2021/22.
Energy use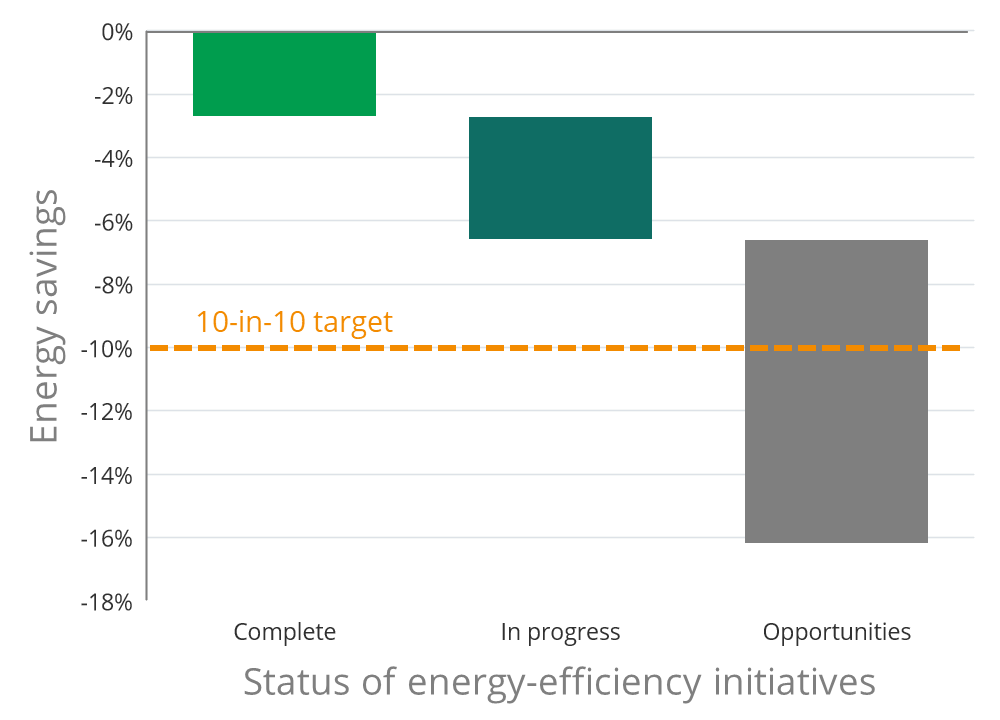 Energy use: 956,612 GJ in FY21.
Energy use has increased with growth in our asset base, but energy-efficiency improvements have achieved reductions on individual assets.
Target to achieve 10% energy-efficiency savings on existing assets from 2013 levels by 2023.
Energy efficient tunnel ventilation systems and lighting upgrades are achieving significant savings on individual assets.
Gender equality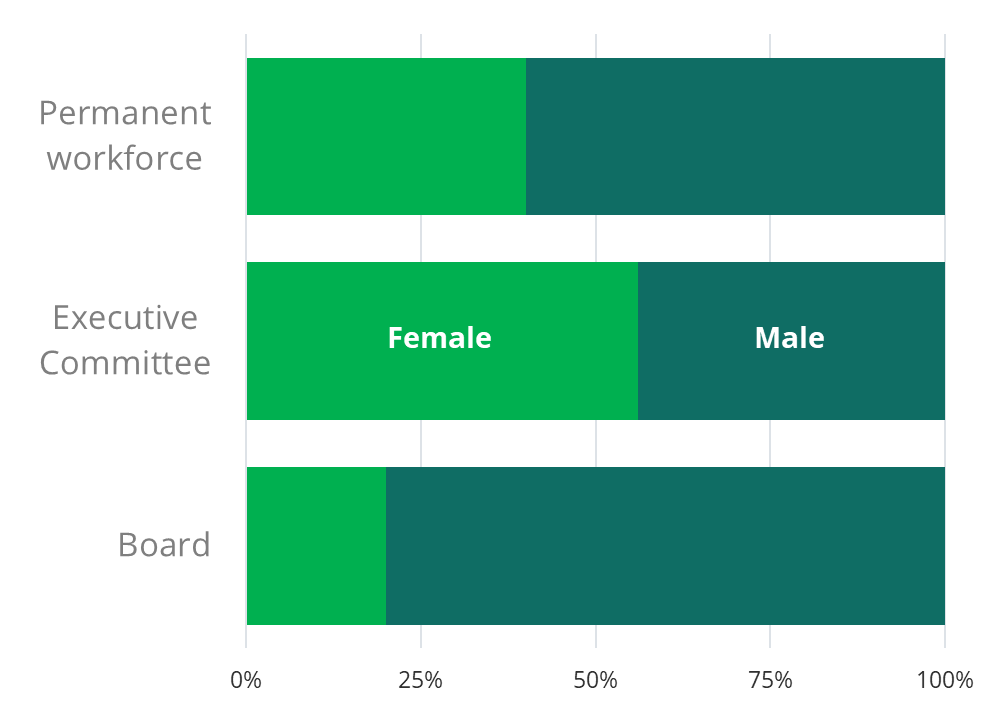 Our overall workforce was 40% female in FY21.
Transurban aims for gender equity at all levels by providing all people with equal access to opportunities, and supporting and reviewing equal pay for men and women across the organisation.
We have been awarded the WGEA 'Employer of Choice for Gender Equality' citation for the past seven years
Transurban continues to develop practices, programs and initiatives to support and assist with improving diversity and inclusion for all employees at all levels of the business.
Recordable Injury Frequency Rate (RIFR)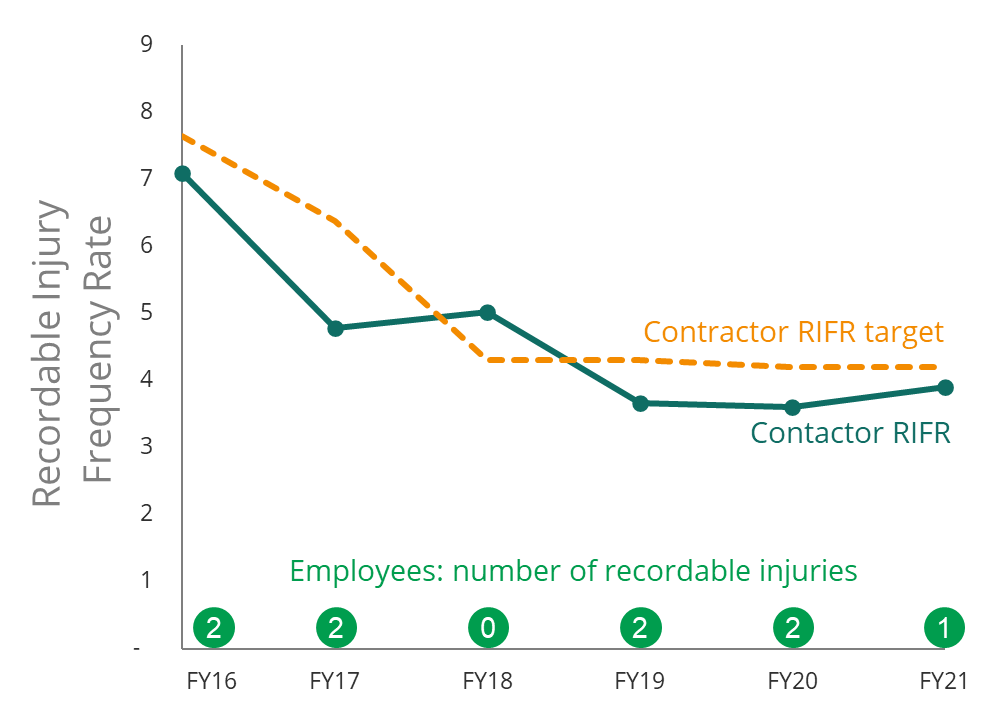 In FY21, a contractor RIFR of 3.90 recordable injuries per million work hours was recorded. This was below our contractor RIFR target of 4.20.
In FY21, there was one employee recordable injury, meeting our target of three or fewer injuries.
To achieve our vision of providing a healthy and safe work environment for all employees and contractors, HSE Action Plans require people leaders and their teams to outline how they each take responsibility for ensuring a healthy and safe environment.
Asset and project performance
Travel time and greenhouse gas savings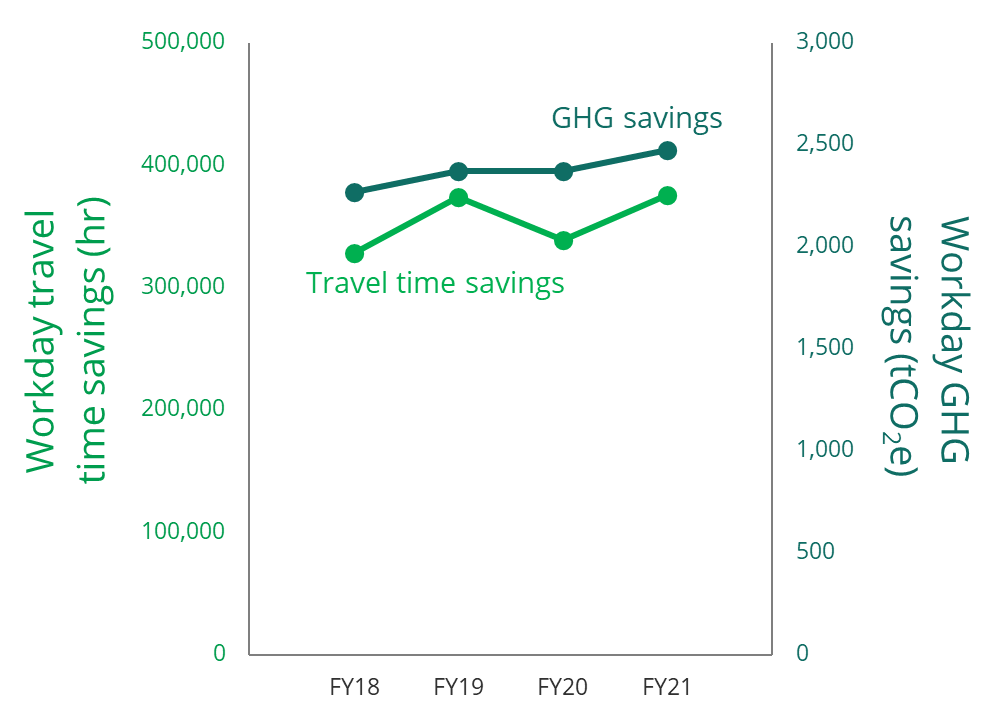 Toll roads generally provide faster and more consistent travel-times compared to alternate routes, saving customers time, fuel and GHG emissions
Total travel time savings of customers using Transurban roads compared to alternative routes were 376,000 hours each workday in FY21. This also led to daily customer GHG savings of 2,475 tCO2e.
Travel-time savings, reliability and safety are the key value drivers for customers choosing our roads
Major project sustainability outcomes

The sustainability performance of the design and construction of our major projects is independently assessed. Since 2015, eight of our projects have achieved ratings that exceed industry standards.
The $16.8B of projects rated as of FY21 include: CityLink Tulla Widening, Gateway Upgrade North, Logan Enhancement Project, M4 Widening, NorthConnex, M4 East, M8, and M4-M5 Link.
Rethinking how we delivered these eight projects saved:
644,000 tCO2e of construction emissions: similar to offsetting more emissions than the entire NorthConnex project
234,000 tonnes of concrete
209,000 tonnes of asphalt
130,000 tonnes of aggregate