Updates
June 2017 – Project reaches completion
This month marked the completion of a 12 month long project, with Landcare Australia planting the final remaining tubestock, totalling over 65,000 natives planted across the five-hectare site.
The two creeks; Shrimptons and Industrial have been restored and the pollutant traps are working effectively to ensure clean water flows into Lane Cove River.
Finally, Kinetica has made its way from UAP's Brisbane workshop onto site. Colourful, sculptural representations of gum leaves, banksias, wattles and the waratah have taken their place proudly amongst the regenerated bushland.
Landcare Australia will carry out ongoing maintenance of the project site.
April 2017 – Bushlink Team joins project
We were delighted to welcome a team from Bushlink to the project this month. Bushlink is a not-for-profit organisation dedicated to creating real and valued employment for people with disability on environmental projects. The Bushlink team will undertake a variety of activities alongside Landcare, including planting tube stock, installing tree guards, mulching, weeding and rubbish collection. Participants will not only gain hands-on skills in bush regeneration techniques but thrive working in a team environment.
To learn more about visit bushlink.org.au.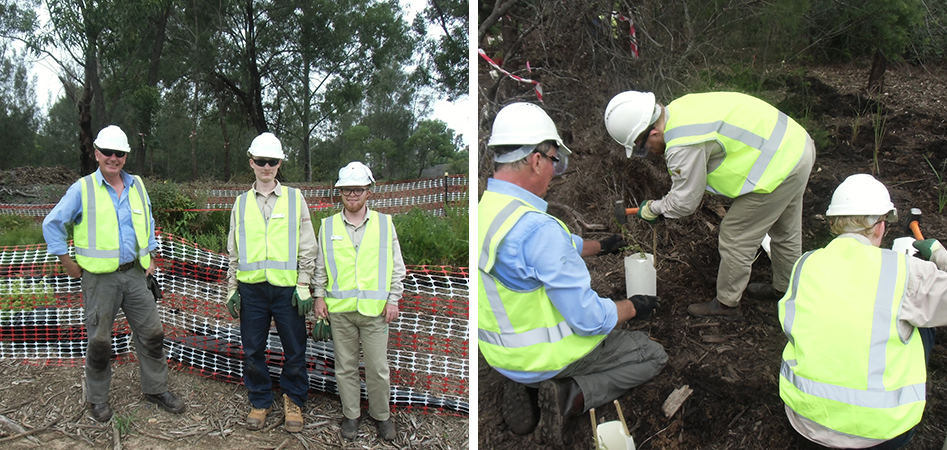 March 2017 – Come along to a community information session

In March, Transurban invited the public to attend a drop-in community information session to learn more about the project and speak to the project team.
February 2017 – Artwork starting to take shape
This month, UAP has begun fabrication on the much anticipated Kinetica sculpture. The frame for the banksias has been welded and the four gum leaves are taking shape (pictured below).
The gum leaves made from galvanised steel, will stand tall alongside the waratah, golden wattles and banksias that will be brought to site for installation in May. The gum leaves will be embellished with laser-cut patterned holes and will be simple in shape in contrast to the bold statement of the waratah structure.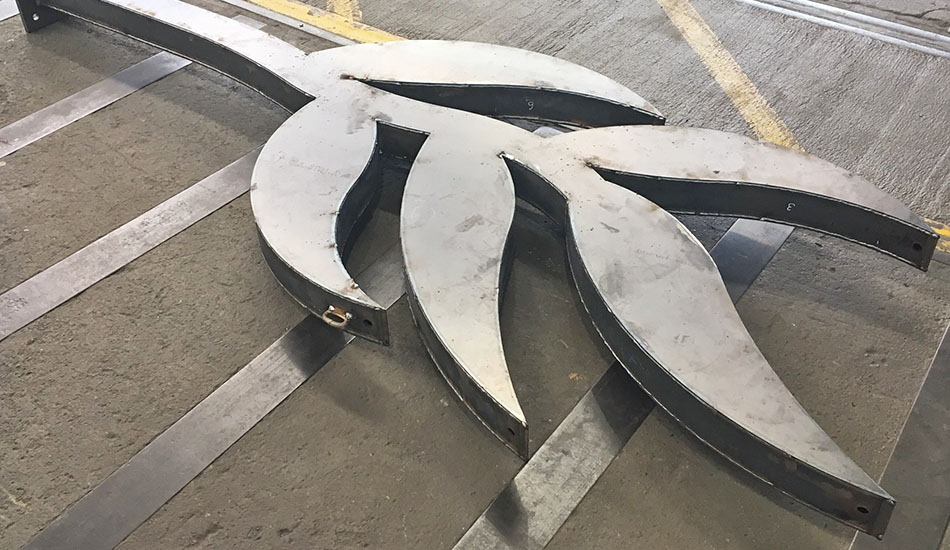 January 2017 – Contractor awarded
Transurban is pleased to announce Urban Art Projects (UAP) has been awarded the contract to fabricate and install the artwork – Kinetica.
UAP was selected because of their experience in delivering large scale artistic concepts, commitment to the sustainability objectives of this project, and their passion and professionalism for great projects.
Kinetica is currently in the pre-works phase, with UAP starting fabrication in their Brisbane factory in March. The artwork will be brought to site for installation mid-2017.
December 2016 – Industrial Creek transformed
Industrial Creek's rehabilitation is nearing completion. Located near Khartoum Road, Industrial Creek was overrun with noxious weeds and the banks were eroding. All weeds have been removed, the creek banks have been stabilised with rock and protected from erosion. The next steps are to install pollutant controls to improve the quality of water that will flow into Lane Cove River.
Shrimptons Creek on the western side of the project site has similarly been cleared and due for rehabilitation completion in January, 2017.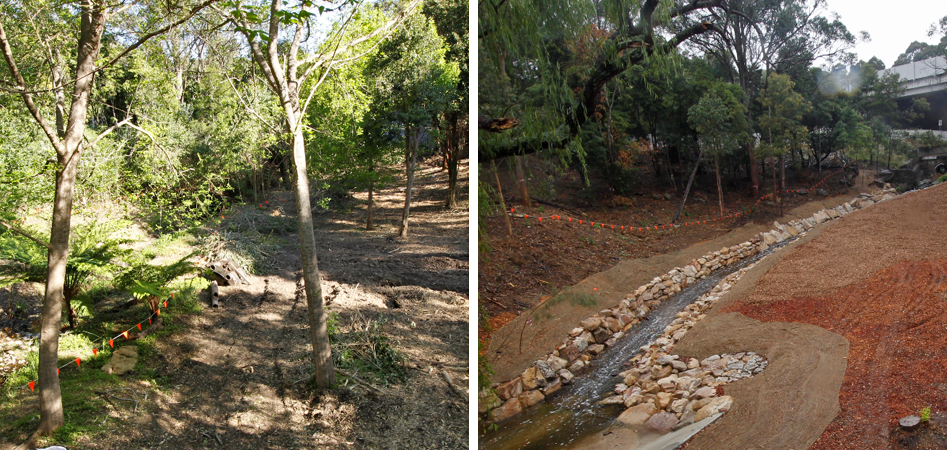 Above: Before and after rehabilitation works
November 2016 – Planting has begun
This month's focus has been preparing the top deck for the revegetation phase of the project. 4,000 cubic metres of top soil was delivered, a temporary irrigation system installed and 16,000 tubestock natives arrived on-site ready for planting.
Students from Macquarie University, along with the team at Landcare have been busy planting the first delivery of natives and installing tree guards. Tree guards are an effective way to protect plants from the harsh sun and strong wind and conserves moisture.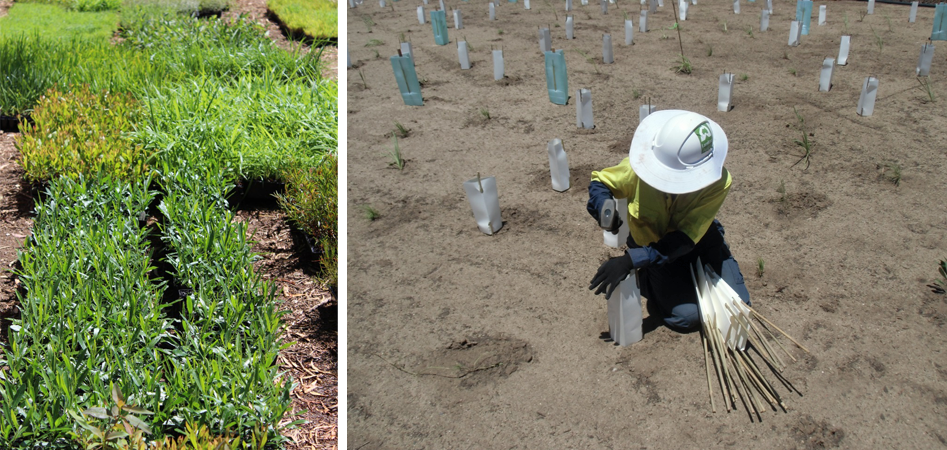 October 2016 – Weed clearing well underway
This month, the project team have been focused on removing and controlling the noxious weeds that infest the 5 hectare site. Landcare Australia has identified over 21 species of noxious weeds, and has achieved 80% of the weed clearance across the site. Removing the weeds is an important step in preparing the site for the revegetation phase of the project.
Internal access roads and tracks have now been established and preparation for the creek improvement works is also underway.
September 2016 – A bird's-eye view
Drones have been launched to track the transformation of the site as the project progresses. Check out the 365 degree aerial view of the site.
In addition to drone footage, time lapse cameras have been set up at various locations. We will share these images over the coming months as the site takes shape.
The following works have taken place this month:
Earthworks
Creation of permanent access to the site off the motorway
Installation of drainage lines
Landcare are now on site identifying species for the rejuvenation of bushland near Industrial Creek
August 2016 – Construction gets a sustainable start
Work has begun on the M2 Macquarie Park Motorscapes project with site preparation works underway, before creek improvement works begin in October.
Sustainable initiatives will be prioritised during construction, starting with replacing sand with recycled crushed glass for backfilling around stormwater pipes.
Transurban's Head of Sustainability Matthew Brennan said recycled glass is a safe product for this purpose and "one of the glass containers you put in your recycling a little while back may have now actually found its way to our project site!" Around 125 tonnes of recycled crushed glass will be used on site – that's the equivalent of 66,000 Coke bottles.
Read the August Community Update for more information about the project.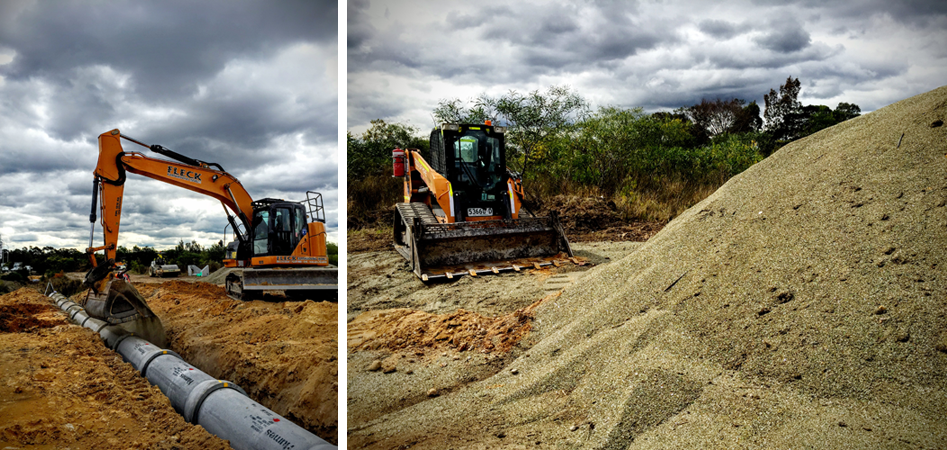 December 2015 – Winners announced
'Kinetica' has taken out first prize for its playful interpretation of the life cycle and resilience of Australia's native flora. Sydney-based creative team Justin Sayarath and Sarah Anne Rodriguez accepted the $20,000 prize money, for their sustainable and creative concept, at an awards night in December 2015 at Macquarie University.
Second place was jointly awarded to Matthew Harding and Benjamin Storch for 'Interleaves' and Ross Liddell, David Hislop and Caillen Hassall for 'Solar Weave.'
Learn more about the M2 Macquarie Park competition winners and their concept Kinetica.
October 2015 – Ideas competition launched for public artwork
The Hills M2 is offering $27,000 in prize money to the winning entry of its M2 Macquarie Park Ideas Competition. The competition calls for innovative, sustainable and creative concepts that will be installed on an unused site next to the Hills M2 Motorway, in Macquarie Park.
Transurban CEO Scott Charlton says the art installation will be seen by more than 100,000 motorists daily and will complement the significant bushland regeneration work also planned for the site. Together with Landcare Australia, the Hills M2 Motorway will increase the ecological value of the land through creek improvement works and extensive replanting with local natives.
The M2 Macquarie Park Ideas Competition follows in the footsteps of the successful Power Street Loop Ideas Competition held in Melbourne earlier this year.