Share the road with trucks
Get to know truck blind spots
Regardless of whether you're following the road rules, when it comes to trucks the fact is if you're in a blind spot they simply cannot see you. Make sure you are familiar with truck blind spots.
For motorists
Blind spot awareness: Get to know truck blind spots and position your vehicle to be seen. Trucks have blind spots immediately in front, directly behind, beside the driver door and a significant area on the passenger side.
Allow extra space: Leave a safe gap, trucks need more room to stop.
Keep left: Unless overtaking.
Don't crowd or tailgate: Trucks need space and can take up to 40% longer to stop than a car.

Leave a safe gap between your vehicle and the truck and provide extra space where possible.
If a truck is in your vicinity, avoid driving immediately behind it as you will not be visible to the driver.
If you can't see the truck's side mirrors when behind it, the truck driver will not see you.
If you are in an adjacent lane, sit well behind the trailer so the truck driver can use his rear-view mirrors to keep you in sight.


Check your mirrors: Your mirrors are an extension of your eyes. Keep them clean and properly positioned to give you maximum visibility.
For truck drivers
Regularly check your mirrors
Leave space, in case you need to break suddenly
Don't over occupy the right lane, allow motorists to overtake safely
Indicate well in advance to give motorists notice of your movements and time to move out of the way.
Consider installation of blind spot sensors.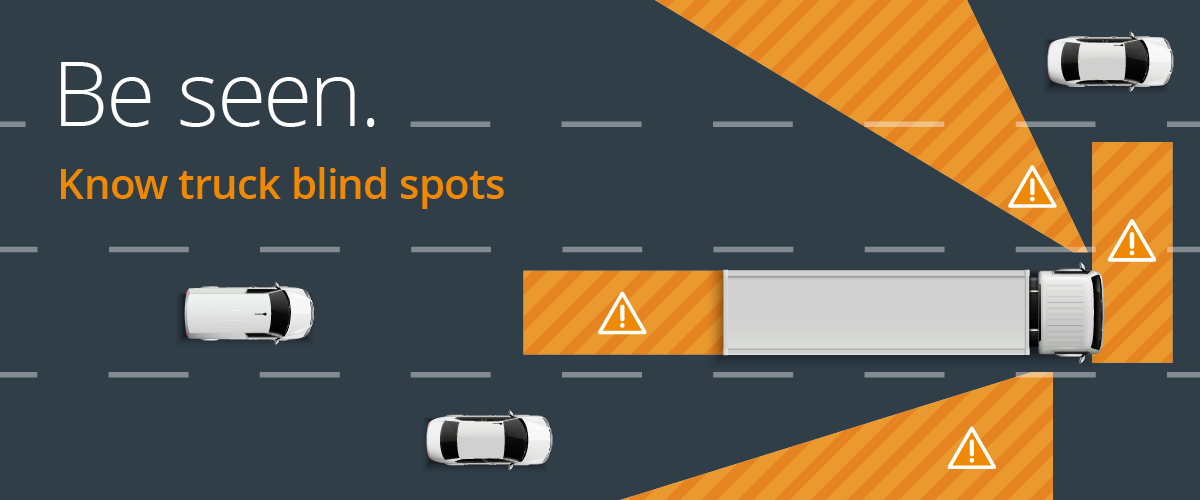 In partnership with the Queensland Trucking Association (QTA), we're sharpening the focus on truck safety.
To raise awareness and promote discussion about truck blind spots, we've sponsored a Followmont Transport trailer.
We're committed to working with the transport industry and research partners to deliver new and innovative technologies to improve road safety for all users, as well as help to promote simple changes all drivers can make to ensure a safer road network
Continued education about blind spots, along with reminders about the dangers of fatigue, distraction and speed, all play an essential part in making the roads safer for everybody.