8 March 2023
On International Women's Day, we're looking at ways to accelerate progress towards a gender-equal future.
One of this year's International Women's Day themes, 'Cracking the Code', considers how innovation, technology and education act as drivers of change. Women studying and working in science, technology, engineering and mathematics (STEM) have made incredible contributions to these fields – but they are also often underrepresented in their workplaces. STEM's non-inclusive past continues to influence who joins STEM-based industries and who advances once they're in.
Transurban's workforce includes construction, engineering and technology professionals, so we've got a big stake in getting this code cracked once and for all. By creating a diverse team at Transurban, we also gain access to a wider pool of talent. And global research has found the most gender-diverse companies are 48% more likely to outperform the least gender-diverse companies.1
Transurban's leadership has set a clear gender-equity agenda with reportable diversity targets to drive accountability. Our push to achieve gender equity includes working to ensure an inclusive culture and strategies to mitigate barriers to participation and progression. Our flexible working and non-gender-based parental leave are both valuable tools for ensuring everyone has access to roles they can excel in. We also offer multiple programs that connect women with STEM career paths and roles.  
Our efforts have helped us meet our target of at least 40% female representation across our business, including in senior leadership roles. We have ranked in the top-20 globally and top-10 nationally for our gender-equity performance for the past three years (Equileap Global Report on Gender Equity).;
Plus, our female leaders have their own toolkits for navigating barriers, cracking codes and thriving in their roles.
Code-cracking lessons from leaders at Transurban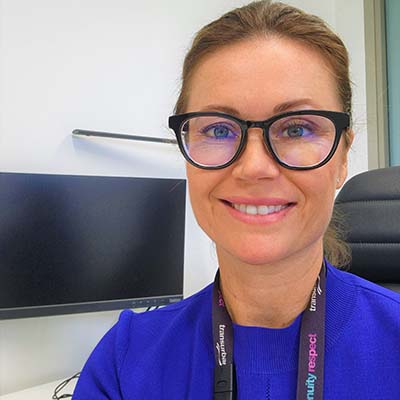 Chantelle Hatch is our NSW operations support manager, where she helps ensure the smooth operations of Transurban roads, including operational procedures, training, compliance and data analytics.
When Chantelle started with Transurban almost three years ago, seven women worked in our traffic control rooms, across six roads. Since then, Chantelle says, "we've done a lot of recruitment work to increase those numbers, and while there's more to do, we've already doubled them."
A commonly cited statistic says women generally apply for jobs when they meet 100% of the job's criteria, while men apply when they meet only 60%. Chantelle says this "confidence gap" is something she's grappled with in the past. "But I've learned over time that it's important to take a chance and go after what you want," she says. "Even if you don't feel 100% ready. The skills and experience you bring to the table are often more important than meeting every single requirement on a job description."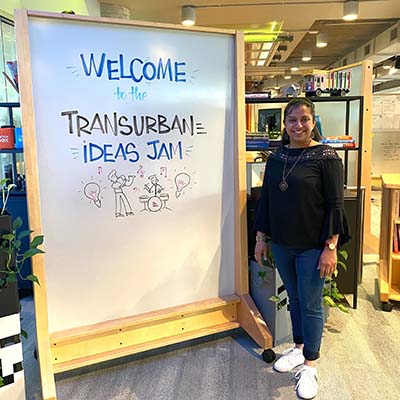 Sindhu Samuel is our Head of Digital Services in the Customer and Technology Team, where she leads the strategic delivery and operations of our digital customer-facing channels (including the Linkt and LinktGo apps).
Sindhu believes being open and brave about taking on new opportunities is the best way to close the confidence gap. "You have nothing to lose," she says, "as long as you are willing to make use of each experience as a learning one".
Sindhu says the constant evolution of digital technology means exciting opportunities and challenges are always on the horizon. She cites ChatGPT, digital inclusion, electric vehicles and smart roads as examples of emerging technologies set to drive significant change. "You need to be continuously learning, adapting, stretching your thinking, thinking big and beyond to tackle some of the challenges, while thinking creatively to make the most of the opportunities," Sindhu says.
The tech code we need to crack
Working on the frontline of a constantly evolving industry doesn't sound like a place where women would face obstacles such as outdated notions of where women might belong. Yet McKinsey and LeanIn.Org's Women in the Workplace 2021 report found women in technology still find it especially challenging to progress their careers.
Across all industries and roles, McKinsey found 86 women are promoted to manager for every 100 men at the same level. But in tech, the gap widens: only 52 women in tech are promoted to manager for every 100 men.
Chantelle says, "in terms of cracking codes, it's often a matter of thinking creatively and approaching problems from different angles. This means being willing to take risks and embracing failure as a learning opportunity." She adds that "staying focused on my goals and seeking allies and support" have helped her succeed.
Acknowledging she's working in "what has largely been a male-dominated field," Chantelle believes women working in STEM today are not only working in exciting jobs, they're also "paving the way for future generations of women to follow in their footsteps."
Sindhu is also optimistic about the future of women in tech, adding "today, technology applications are almost limitless, especially when compared to the traditional construct of working in technology." The broadening application of technology, she says is "opening unconventional opportunities for everyone to express their strengths in multiple ways."
Sindhu sees this play out in her role. "I lead and work with some of the best and brightest minds," she says, "People with the passion to explore and bring great ideas to the business, and who are willing to experiment and learn."
For women who would love to step into the STEM world, Sindhu encourages women to crack any internalised codes that might be holding them back. "When in doubt, seek advice and use the 'four bs': be bold; be brave; be yourself; and give it your best shot. You might surprise yourself!"