See how we're performing on sustainability
We're working to achieve net-zero emissions
Our emission-reduction targets include Scope 1 (fuel), Scope 2 (electricity) and Scope 3 (supply chain) emissions. We were the first Top-20 ASX-listed company to have our 2030 Scope 1, 2 and 3 GHG emission reduction targets validated by the international and independent Science-Based Targets initiative.
Targets adopted by companies to reduce GHG are considered science-based if they line up with what the latest climate science says is necessary to meet the goals of the Paris Agreement. That is, our targets must align with the emissions reductions needed to (at least) limit global warming to well below 2°C above pre-industrial levels, and to aim to limit warming to 1.5°C.
Our 2030 and 2050 targets are:
2030
Towards net zero
50% absolute reduction in Scope 1 and 2 GHG emissions
22% intensity reduction in Scope 3 emissions
2050
Net-zero emissions
Reducing all possible GHG emissions associated with our operations
Offsetting unavoidable residual emissions to achieve net-zero
Our 2050 GHG targets are now under Science-Based Targets review.
Baseline numbers
All GHG targets are relative to a FY19 baseline. In 2019, our operations generated 122,243 tCO2e Scope 1 and 2 emissions and 503,382 tCO2e Scope 3 emissions.
How we're tracking

The charts below show how we are tracking in meeting our emissions targets and how we are decarbonising the energy sources we use to power our operations.
Download our FY23 Sustainability Data Pack (Excel).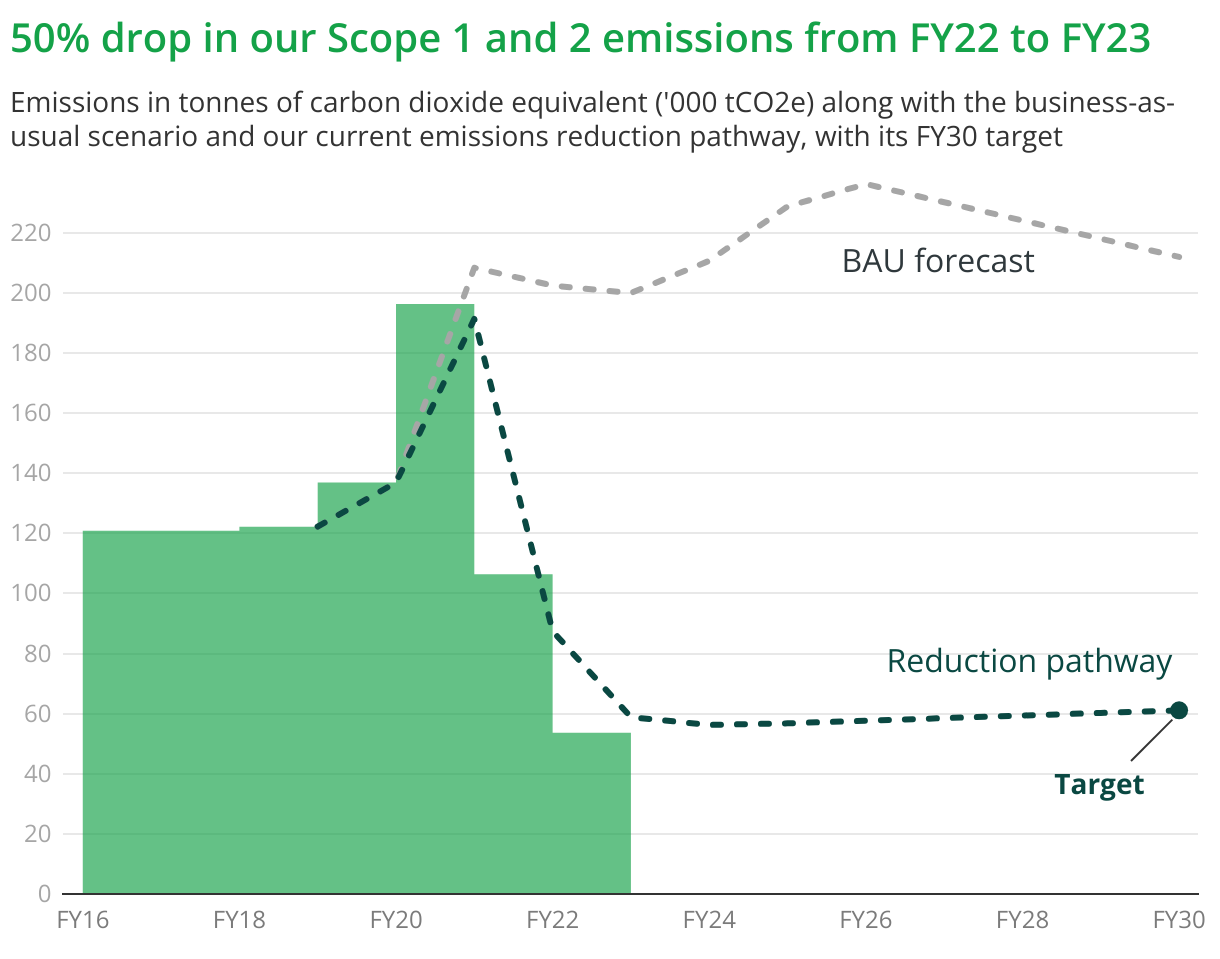 Overall, in FY23 we achieved around 50% reduction in total Scope 1 and 2 GHG emissions compared to the previous year (and 56% below FY19 baseline year). These reductions were achieved through:
the NSW Bango windfarm becoming operational in FY23, providing greater coverage for the state

shifting to 100% renewable electricity in our North American operations.
delivering energy-efficiency projects in all markets (for example, tunnel ventilation optimisation works).
Source: Transurban. GHG emissions data has been assured by KPMG.


[1] Electricity usage associated with voluntary large-scale renewable energy certificate surrenders and/or accredited renewable energy puchasing e.g. GreenPower [2] Electricity usage not covered by network or voluntary renewable energey arrangements [3] Renewable electricity included within grid networks as a result of generation mix or network renewable energy targets [4] Usage associated with behind the meter on-site solar photovoltaic (PV) systems.
Source: Transurban.
We work hard to ensure high air-quality standards are maintained within our tunnels, and in turn, in our local communities.
Our roads are designed to reduce vehicle emissions as much as possible and we continually monitor and report on air-quality levels to ensure we comply with air-quality regulations.
Find the latest air-quality results