We all like to think we're safe and knowledgeable drivers – but our own research consistently shows, most of us overestimate our road safety expertise. Take a few minutes to refresh your knowledge here – and drive safer.
Sharing the road with trucks
Think you know where truck blind spots are? Only about 5% of Australian drivers correctly identified truck blind spots in our research.
Get to know truck blind spots
Using child car seats
We run regular car seat check events (with Kidsafe) and we regularly find more than 90% of seats checked are being used incorrectly. 
Get the facts
Heading off on a road trip
Getting your playlist sorted is essential for any road trip. We've got some other tips to help you get where you're going safely and soundly.
Happy travels
Driver training programs
We support various programs to help people learn to drive.
Getting behind the wheel
Our roads are equipped with state-of-the-art monitoring technology so if anything happens, we'll know about it and we'll respond – fast. 
We monitor our roads 24/7, watching for breakdowns, loose and falling loads, accidents, and stray animals.
When there's an issue, our incident response teams are on the scene within minutes.
Our speedy response times help keep motorists safe and also keep traffic moving around incidents to minimise delays.
Need help on the road?
If your vehicle breaks down, or you're involved in an incident on our roads – even if you run out of petrol or get a flat – sit tight. We've seen you and help is on its way.
Road safety is a shared responsibility
We adopted the safe system road safety approach in 2016. This approach, used by governments and peak road safety organisations internationally, considers all causes of crashes together and advocates for integrated solutions that help create safe roads, vehicles, drivers, speeds and crash responses.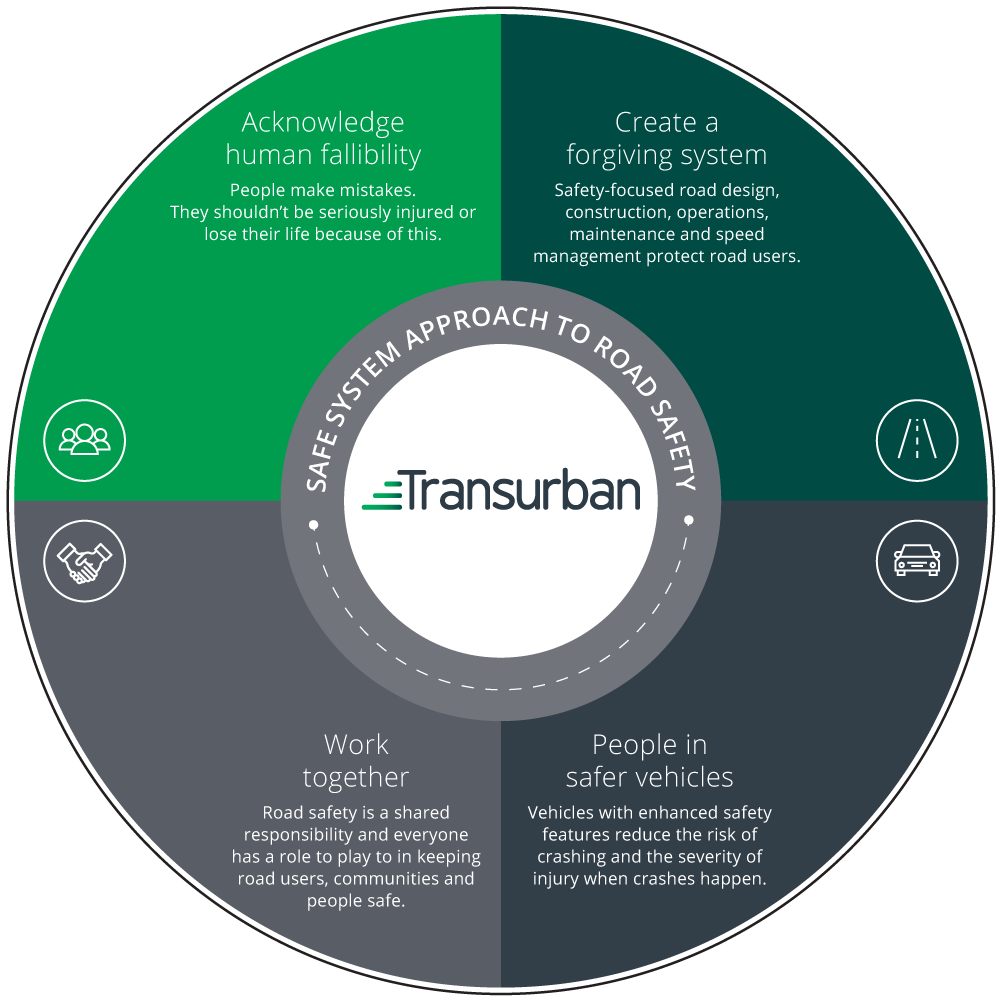 This diagram shows how our integrated road safety approach is guiding us in achieving our ultimate vision of zero fatalities and life-changing injuries on our roads.
Safety technology built into our roads
We've designed and built roads around Australia and in the US and Canada, putting world-class smart technology to work in ensuring our roads are as safe as we can possibly make them.
Some safety features on our roads include:
more than 5,000 CCTV cameras operating across our roads
automatic incident detection
electronic speed signage, adjustable to varied weather or road conditions
electronic lane-control signage
specialist tunnel safety systems including sprinklers, emergency signage and ventilation systems.
No articles found for the selected Keyword