Environmental, social and governance (ESG)
Habitat Filter at Power St Loop, Melbourne
Habitat Filter, Melbourne
Transurban has a long-standing commitment to sustainability which is consistent with our purpose – to strengthen communities through transport.
We recognise that to provide long term value for investors and meet the needs of each of our stakeholder groups, we must deliver more than just financial returns. We set high standards for our performance across environmental, social and governance issues and transparent disclosure of our sustainability performance.


Transitioning to renewables
95% of our emissions derive from electricity. From 2022 onwards, 80% of the electricity used for Brisbane and Sydney operations will come from wind power.

Reductions in electricity use
We are improving the energy efficiency of our motorways and expect to reduce our energy usage by 10% in 10 years (from 2013).

Technological innovations
Our tunnel ventilation systems are being upgraded to adapt better to traffic flow, and this will allow us to maintain safe air quality in a more efficient manner.

Low and Zero Emission Fleets
With 5% of our operating emissions coming from fuel use, we are investigating the replacement of our existing fleets with low and zero-emission vehicle options.
Learn more on our Insights hub
Visit our Insights hub to learn more about Transurban's sustainability approach. Here you can:
learn more about our sustainability and emissions-reduction approaches
view our latest sustainability and ESG performance data and ratings
explore how our design, delivery and operations of toll roads creates benefits for cities and communities.
UN Sustainable Development Goals
Transurban's Sustainability Strategy is aligned with the United Nations' Sustainable Development Goals (SDGs). We have identified nine SDGs that are most relevant to our business, and we report on how we are contributing to these global goals.
Task Force on Climate-related Financial Disclosures (TCFD)
Climate change will influence the way we identify, measure and manage climate-related risks. As a result, we need to ensure that our assets can adapt to potential future climate scenarios.
With 20 roads operating across three countries and in both hemispheres, it is undeniable that the impact of climate change will affect the way we run our business in the future. These impacts may occur as a result of substantial physical changes to our climate. Because of this, changes to technology, market and reputation will be required as our world transitions to a low-carbon economy.

Modelled TCFD Scenarios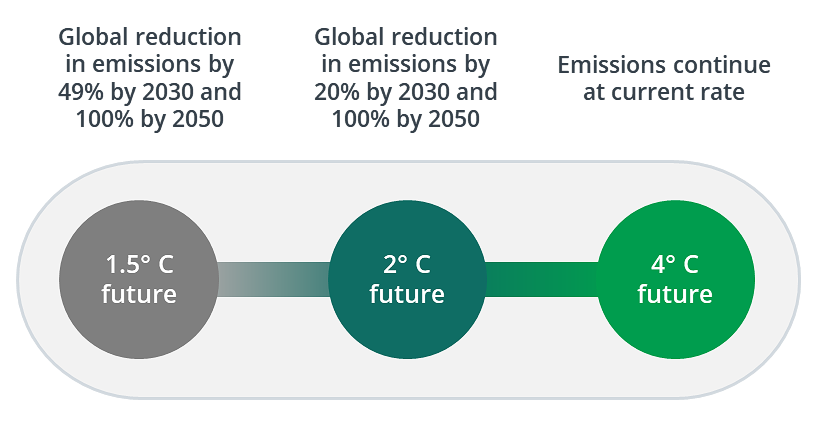 2021 Modern Slavery Statement
Modern slavery is a serious and complex issue that requires a long-term and coordinated response. As such, we have joined like-minded industry partners to adopt a united approach to addressing this issue. This is our second Modern Slavery Statement and it outlines how we work to identify, manage and mitigate the specific risks of modern slavery in our operations and supply chains.
While we did not identify any instances of modern slavery in our operations or supply chains in FY21, we will remain vigilant in monitoring and addressing these risks and continue to deepen the engagement with our supply chain partners.
Our people and communities
Transurban's purpose is to strengthen communities through transport. Our customers, local communities and employees are all important stakeholders in this vision. Read more below about how we work with residents near our roads, build community partnerships, improve customer service and how we are promoting a diverse and flexible working environment.
Sorry, nothing to see here